About this Plan
This 1-story, 340 sf studio with options was designed by Abodu, a Redwood City-based manufacturer of high-quality, factory-built ADUs. With lead times as short as 12 weeks from contract to installation, Abodu takes the stress out of the homeowner's hands by managing the project from start to finish.
Furniture placements by Resource Furniture.

For further information about Abodu:
Email: hello@abodu.com | Website: abodu.com
For further information on this standard plan, click here.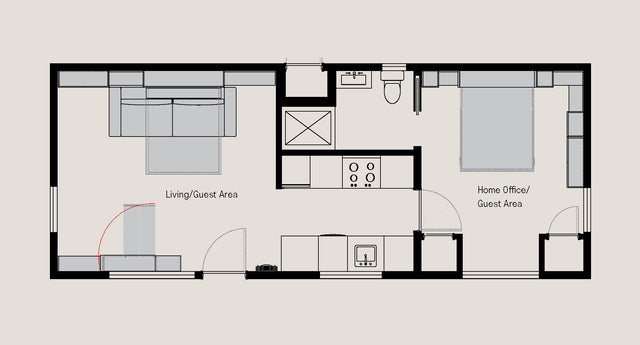 In the Living Room: Tango Sofa & Giro Table
Double of the use of this space with our Tango Sofa, a queen-sized wall bed with an integrated loveseat. With the pull of a handle (discretely hidden under the Tango's display shelf) this room seamlessly transitions from living area to guest bedroom in seconds. The Tango Sofa features sliding seats for reclining or standard seat depths, as well as a feather-wrapped foam fill — making it one of the most comfortable sofas you'll ever lounge on.


Across from the Tango Sofa, we recommend our Giro transforming console-to-dining table. When closed, the Giro acts as a slim console with a variety of modular storage compartments nestled underneath — choose anything from open shelves, to cabinets, to file drawers. Pivot the tabletop 90 degrees, and watch as Giro unfold into a generous dining table large enough to seat four.