Minarc | The Plús Hús Full
About this Plan
Plús Hús is an Accessory Dwelling Unit developed by the award-winning design firm, Minarc. Plús Hús — Icelandic for 'Plus House' and pronounced like "couscous" — minimizes time, waste and noise associated with traditional construction. Built with revolutionary sustainable building material, mnmMOD, Plús Hús is manufactured here in Los Angeles.

Furniture placements by Resource Furniture.

For further information about Minarc & Plús Hús:
Email: info@theplushus.com | Website: theplushus.com & minarc.com

For further information on this standard plan click here.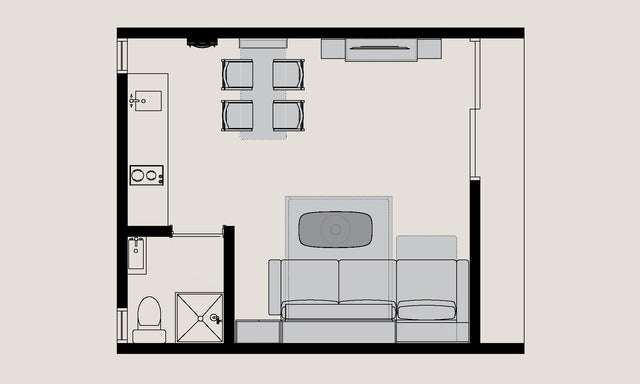 In the Living/Sleeping Area: Swing Chaise
For the main living/sleeping area, we've suggest the Swing Chaise — a queen wall bed with an integrated three-seat sectional sofa and retractable chaise lounge. With the Swing, this compact space can effortlessly transition from day to night in seconds.
The Swing Chaise features a hidden storage compartment under the sofa seat for extra space to store away bedding or seasonal items.