Taalman Architecture | IT House
About this Plan
The design team behind this 2-story IT House is the Los Angeles-based studio, Taalman Architecture, led by architect Linda Taalman and a talented team of architects and designers. The IT House uses a flexible building system that is off-site fabricated and on-site assembled to create an efficient and minimal aluminum and glass structure.

Furniture placements by Resource Furniture.

For further information about Taalman Architecture & the IT House:
Email: adu@ithouseinc.com | Website: taalmanarchitecture.com or ithouseinc.com

For further information on this standard plan, click here.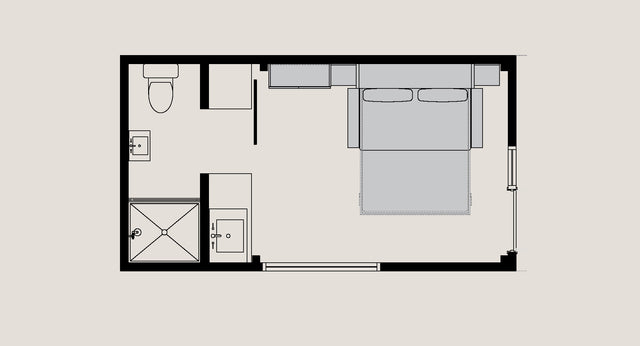 In the Living/Bedroom: Penelope Sofa
The main living area effortlessly converts to a comfortable bedroom in seconds with the addition of the Penelope Sofa wall bed. This multipurpose piece instantly transforms from a two-seat sofa with loose backrest cushions into a queen bed, via its patented lever mechanism.
Available in your choice of thin- or wide-arm sofa, the Penelope system integrates perfectly any with our modular closet or cabinetry systems — so you can build out wall-to-wall storage.