Welcome Projects | The Breadbox ADU
About this Plan
Based in Los Angeles, Welcome Projects is playfully revisiting the vernacular to tell stories through design one project at a time. Led by Laurel Consuelo Broughton, Welcome Projects' studio services include architectural and industrial design, creative consulting, branding, and ideation.
Welcome Projects has nicknamed this Standard Plan Accessory Dwelling Unit 'The Breadbox' for its curve-topped walls and slight resemblance to that vintage counter accessory.

Furniture placements by Resource Furniture.

For further information about Welcome Projects:
Email: thebreadbox@welcomeprojects.com | Website: welcomeprojects.com
For further information on this standard plan click here.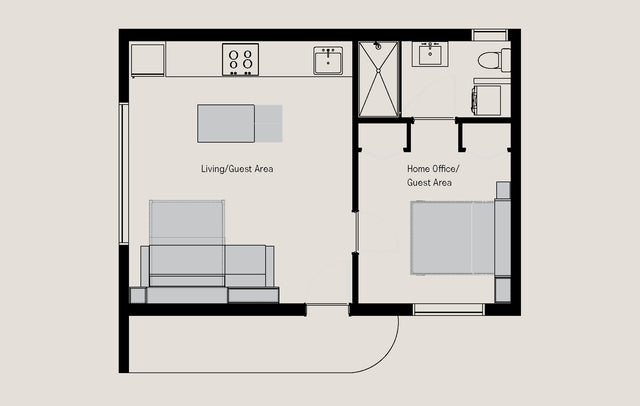 In the Living Room: Oslo Sectional
We designed this space with a queen wall bed with integrated sectional sofa, allowing this room to seamlessly transition from living are to guest bedroom in seconds.
The Oslo Sectional features a three-seat sectional sofa by day, as well as a hidden storage compartment under the seat — a perfect choice for compact ADUs, where extra storage space is scarce.