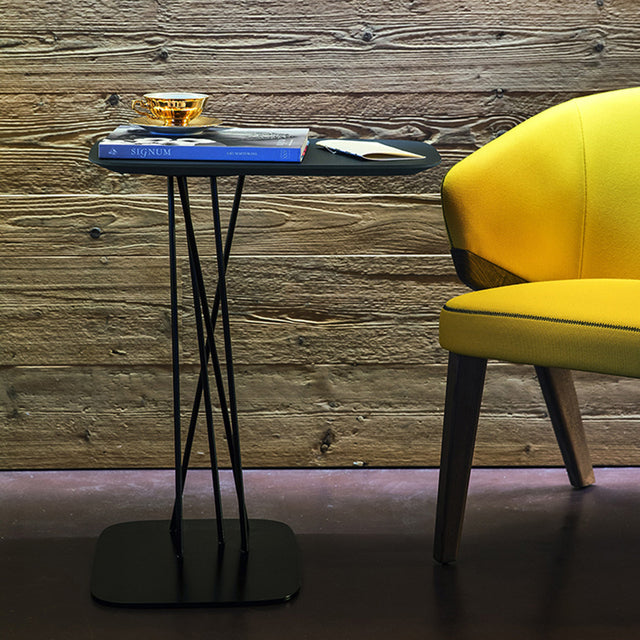 Side & End Table
Mika
Description
Inspired by the Japanese game Mikado, or pickup sticks, the Mika has a modern, architectural design that's both stylish and handy. With two perpendicular trays bound together by Mikado-esque rods, the Mika can be used as a coffee or side table and is available in stained or lacquered oak and black Fenix.   BR
Dimensions
21.25" W x 12.5" D x 24.25" H 54 cm W x 32 cm D x 61 cm H
Shipping & Installation
Shipping (Stock Orders): Shipping will be applied at checkout. Please note that additional shipping charges may be incurred after checkout, depending on your specific delivery location. Stock orders can only ship within the Continental U.S. (if you are located in Florida, please call 212-753-2039 for details).
Installation (Stock Orders): Installation instructions will be provided, but we can also arrange for professional installation in our local service areas for an additional charge. Once we have received your order, a Resource concierge will contact you within 1-2 business days to confirm your items and site conditions—at that time, they can provide you with an installation quote upon request.
Custom Orders: Custom orders are reviewed individually, factoring in destination, weight, size, and number of items to determine shipping charges, timelines, and delivery methods. Your sales representative will provide you with details on a case-by-case basis.
Refunds/Returns: Once your Resource concierge has called to verbally confirm your order and site conditions, we can not accept refunds or returns.
Located in Canada? For Canadian pricing and shipping information, please reach out to your nearest showroom. Our Vancouver, Toronto, and Calgary teams are happy to help!
Located in Florida? Please call 212-753-2039 for details.
For more details, please refer to our Shipping & Installation Policy.
Available Options
Table with metal base black matte lacquered.
*Orientation of top determined upon assembly.
Finishes
Downloads